Lake enhanced snow will accompany the first true cold air mass of the season this weekend, bringing locally up to several inches of snow in the higher terrain of the Snowbelt east of Cleveland. Map:
Meteorological Discussion:
It's a beautiful site! After being transplanted to a Virginia-like climate for the last 12 or 13 months, the models have a closed low just to our northeast Saturday night, with plenty of cold air and synoptic moisture moving over the unseasonably warm waters of Lake Erie. Finally, the wait is over and our first true taste of winter is here!
A band of ana-frontal/post-frontal rain will not clear eastern OH until late Saturday morning/around noon near the PA boarder. 925mb temps will crash to 0 to -2C by 13-14z/8-9AM, with surface temps in the upper 30s to near 40. These low level temp profile will be marginally supportive for some flakes mixing in on the back edge of the ana-frontal rain band. So, this basically means that we'll start our Saturday on a positive note, assuming you like mangled snowflakes mixing in for 20 minutes with gusty winds and falling temperatures as much as I do. It doesn't mean much more, because the precip will briefly pull out of the area before anything more interesting happens.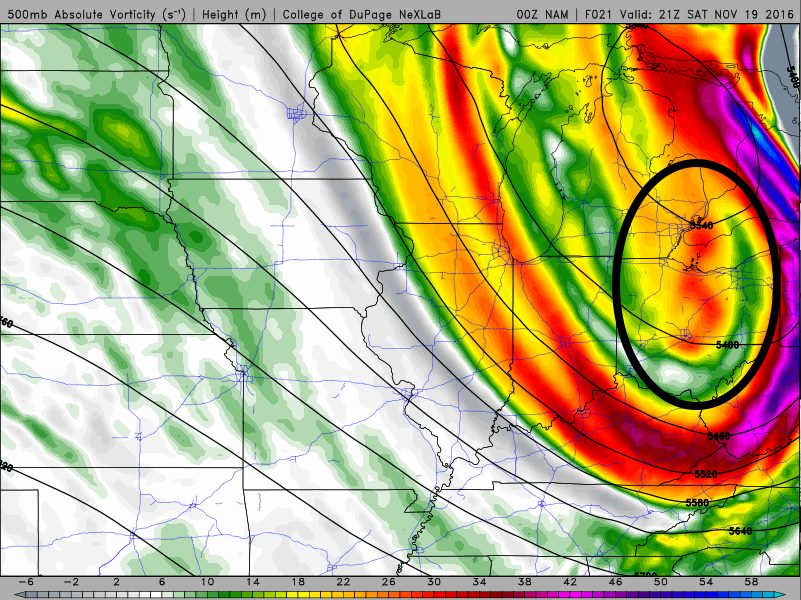 Interesting weather returns late Saturday afternoon/early evening as a vort max rotates across northern Ohio and Lake Erie. This vort max will move in on the leading edge of wrap around moisture, and also be accompanied by a surface trough/wind shift that will drop southeast across the lake. Oh, this is exciting already!
Here is the surface map, showing a noticeable kink in the isobars and shift in the winds. The winds ahead of the trough over NE OH/NW PA are WSW, with winds behind the trough out of the WNW. These are fun wind directions, because it gives a long fetch for the trough to work with over Lake Erie, and also brings pre-seeding from southern Lake Michigan. The thermodynamic environment as this trough pushes across the lake will become extremely favorable: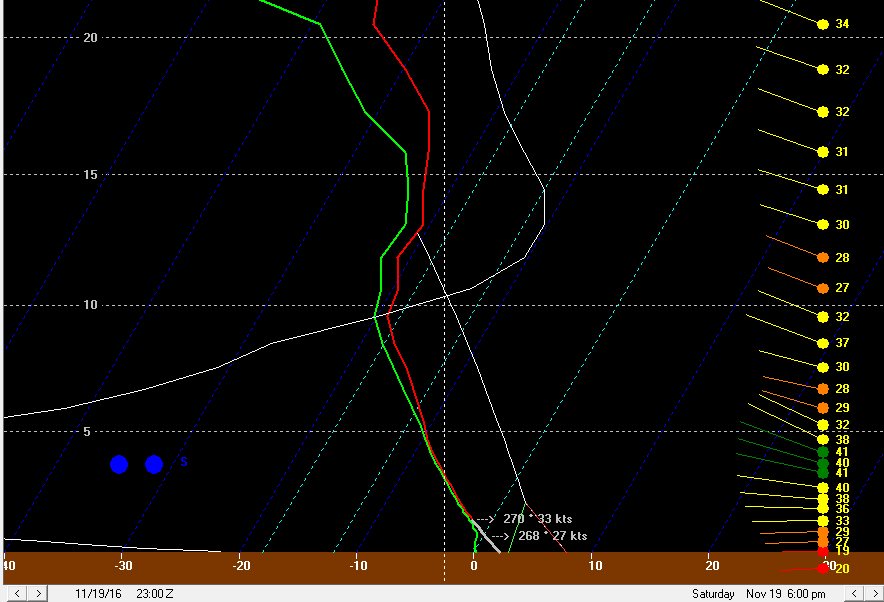 Deep moisture to nearly 20k feet, over 700 J/KG of lake induced CAPE, with equilibrium levels near 13K feet, along with the convergence with the trough and likely pre-seeding from Lake Michigan will combine to generate intense precipitation along the wind shift as it pushes off of Lake Erie. A band may briefly form over the lake parallel to the shore in the WSW flow ahead of the trough and swing inland. 925mb temperatures of -2 to -3C and 850mb temperatures of around -8C as the trough pushes inland will easily support all snow (or perhaps graupel) with any decent bursts of precipitation. Inland it probably won't take much of a burst to fall as graupel or snow, as these temperatures are a couple of degrees C colder than what it normally takes to get early-season accumulating lake effect snow.
The trough pushes south fairly quickly, however many areas will likely see a quick burst of snow. Given the likelihood of intense precipitation along this trough, some areas could see a quick half inch or inch of snow as the trough pushes inland…even the lakeshore may see accumulations if a good burst moves overhead. The layer of instability may be just deep enough for a few lightning strikes as the trough pushes on shore.
Behind this first trough, the isobars will become oriented just north of true NW to SE, with WNW surface winds. The isobar pattern is very close to historic isobar patterns for heavy single banded snow in Cuyahoga County, but is perhaps oriented slightly more N to S than the average of those events. The winds are also stronger. With that said, some convergence should still set up due to friction and the colder air inland butting up against the lake modified air, and based on the strong flow possibly pushing the convergence a bit inland, and isobar pattern, the potential for a more focused area of snow showers will extend from Lorain County east through the southern half of Cuyahoga County into Geauga, inland Ashtabula, northern Trumbull and southern Erie PA Counties. The strong winds will likely prohibit a true primary band from forming, but enhanced convergence in this area should result in better snow.
The instability and moisture remain very favorable through the overnight, with equilibrium heights hanging near 12k feet and deep moisture lingering to 10k feet or higher into early Sunday morning. With strong wind hitting the terrain at a fairly good angle, I expect the combination of some convergence as discussed above and orographic lift to wring out decent snow across the higher terrain in NW PA, inland Ashtabula, Geauga County, eastern Cuyahoga County, and likely into the hills in northern Summit County, southern Cuyahoga County, and northern Medina County through the night.
In addition to the relatively favorable looking wind direction and convergence, but upstream moisture from Lakes Superior/Michigan will likely swing from NW PA Saturday evening into the primary NE Ohio Snowbelt overnight Saturday night, and perhaps onto the west side Sunday morning as the winds gradually veer to a more northwesterly direction. Any upstream connections may result in locally heavier bands of snow, despite the relatively strong winds and some wind shear otherwise preventing strong banding. A Lake Huron connection will also edge west into NW PA early Sunday morning. The deep synoptic moisture, convergence south of the shore, orographic lift, and strong instability support a general snow downwind of the lake focused on the higher terrain, but any of these upstream connections will support narrow heavier bands of snow within that.
The NAM and GFS both bring one last vort max across Lake Erie and into north central and northeast Ohio very early Sunday morning; this could bring another intensification in the snow for a few hours very early Sunday, both due to the added lift from the vort max and the subtle surface trough/wind shift with the vort max adding to the low level convergence near the lakeshore.
My general rule of thumb is that moderate to heavy lake enhanced snow will continue until at least when the 70% RH line at 700mb moves east of the area; the general consensus is for this to occur around 7-8AM in Cleveland on Sunday, by 10AM in Geauga County, and around noon in Ashtabula County. As the low cuts off and slows over New England this drying will really slow as it reaches NW PA, and they may remain in the moisture cyclonic flow into Sunday night, before gradually drying into Monday.
This suggests the large blob of decent snow will end in NE Ohio Sunday morning from west to east, but perhaps linger over NW PA through Sunday and into Sunday night.
The SREF mean matches the recent GFS/NAM/Euro runs fairly well with how quickly it moves the 70% 700mb RH line east Sunday morning. Several members are slower and would keep heavier snow going longer in NE OH Sunday morning, and it's worth noting that just small changes in the models WRT their handling of this cut off low may have impacts on how much snow falls in NE OH. The models have been relatively consistent their last couple of runs, so we'll see if the current consensus holds up.
Even after the best moisture strips away, the instability/moisture profile aren't "horrible" for pure lake effect that may be leftover. Equilibrium levels take until Sunday evening to fall below 10K feet, and moisture is solid at and below 5k feet, and into the DGZ all of Sunday. The flow is WNW which isn't the longest fetch but also isn't the shortest, and winds in the low levels, which still a little stronger than preferable, do weaken some compared to Saturday night. This leads me to believe that disorganized light to moderate snow showers will continue on Sunday. With 850mb temps of colder than -10C, clouds/snow showers around all day, and probably some snow on the ground in most of the Snowbelt away from the shoreline, highs on Sunday will struggle to hit freezing in many spots and any additional snow showers may produce an additional inch or so in spots Sunday afternoon.
With a WNW to NW wind, I'd expect any connection to the upper Great Lakes to move into the Cleveland metro and/or primary Snowbelt Sunday afternoon. Although the atmosphere will be drying some, sufficient instability and improving low level winds (weakening speed and directional shear) may allow for a disorganized band or two to possibly form downwind of these upstream connections through Sunday afternoon, especially where the bands hit higher terrain. This may be where spots pick up the additional inch or so I discussed above Sunday afternoon.
At this same time, a healthier Huron connection (and better synoptic moisture) will affect NW PA; with a WNW to NW flow, the band may not edge as far west as the ARW has it (near Meadville), and may stay in central or eastern Erie and Crawford Counties. The NMM traditionally does not have as bad of a bias for placing bands too far southwest, and is a little farther east with that band. With strong winds that are gradually shifting, the ARW's solution of stalling a single and extremely intense Huron band on Sunday may not be realistic. A more diffuse moderate to briefly heavy band that moves a little bit across NW PA seems more reasonable given the strong winds.
As we head into Sunday night, the inversion slowly lowers and moisture starts stripping away above about 4k feet. This sounding has just enough juice for maybe some light accumulations Sunday night, mainly driven by the extreme temp differential between the lake and 850mb still allowing for about 500 J/KG of lake induced CAPE under the inversion. With the winds in the low levels finally weakening below 30 knots and gaining a bit more of a westerly direction, this may try to favor lose organization of snow showers from the Cleveland metro east. A negative here is that high pressure building in from the west will likely shut off upstream connections into NE Ohio Sunday night. Overall, if a band does try to develop Sunday night, some spots may see another inch or two of snow, but nothing very substantial.
In NW PA the deep synoptic moisture will finally pull east Sunday evening, allowing for the steady orographic enhanced lake enhanced snow to taper. With that said, instability and moisture depth remain a little bit deeper, along with a possible Huron fetch that may not shift east into SW NY until Monday morning. This could allow some spots to squeak out another 2-4" in the higher terrain of NW PA Sunday night. I don't expect another to see more than nominal addition accums in NE OH or more than an inch in NW PA on Monday.
So, all in all, this is a tough forecast. Many signs point towards a lot of lake enhanced/effect precipitation, including the favorable fetch, upstream connections (especially NW PA), very good moisture/instability, and orographic lift. The one negative is strong winds/wind shear limiting band organization until perhaps Sunday afternoon and Sunday night…by then the other good factors will start diminishing for NE OH and by Sunday night in NW PA. Another negative is warm ground and air temperatures. I suspect that once inland locales get a little snow down that with air temps falling to near freezing that ratios can increase to near 10:1 inland by later Saturday night and Sunday…especially in the higher terrain of NW PA. Near the lake temperatures may not get to freezing until Sunday night, keeping ratios much lower and constantly melting any snow that does stick. So, although some bursts may occur at times near the lake and accumulate a little, big accumulations are highly unlikely near the lake.
For NE Ohio, I figure the flow and terrain favor eastern Cuyahoga and most of Geauga County Saturday night. It appears that a good 12 hours or so of moderate snow is possible here. Again, with the lower ratios, especially at first, and likely lack of an organized, dominant band that drops a ton of snow at once, amounts will probably stay somewhat under control. With that said, such a long window of decent snows into Sunday morning leads me to believe that a few inches…IE 3-6"…are quite likely to fall in most of Geauga County through Sunday morning, especially in the higher terrain in central and northern portions of the county. Another inch or two of snow from snow showers Sunday afternoon and Sunday night could push totals over 6" and up to near 8" in the higher terrain of northern Geauga. How far south and west to extend the snow is tough, as the hi-res models really want to get a good portion of Medina, Summit, and Portage in on the act. With a strong WNW flow I do expect northern portions of these counties to get in the act Saturday night into early Sunday, but the isobar orientation along with typical hi-res model bias to place bands too far SW suggests that only the northern portions of these counties will get in the act. Normally, a prolonged WNW flow band into these areas can produce decent totals, but with a little bit less terrain here than farther east, moisture moving out faster in these areas, and a likely lack of a big band, I will keep amounts in these areas to 2-4". I don't expect much if any additional snow here after Sunday morning. If a better band does form, the secondary Snowbelt could see a locally higher amount under that band…but at this time that doesn't look very likely. Due to a prolonged WNW flow off of Lake MI and strong winds carrying bands well inland, parts of the central highlands may see light accumulations as well. Only allowed an inch or two at the lakeshore and in spots that will be generous.
For NW PA, stronger orographic lift through the event and an additional 6-12 hours of favorable synoptic moisture along with Lake Huron moisture will allow for considerably higher totals. I'm looking at a 30 hour period of pretty good snow in the higher terrain of NW PA, with light to moderate snow showers lingering for several hours after that into early Monday before finally ending. Snow ratios in the higher terrain of NW PA should be a bit higher due to slightly colder temps and also better odds at quickly establishing a snow pack to build on. With the Huron band likely meandering and not being extremely intense, and still lower than optimal ratios, I struggle to see more than 18" or so as the jackpot in NW PA…but I do foresee a rather large area seeing at least a foot. If the Huron band can stall for a few hours, which again seems less than likely, then a local spots may see easily 2 feet of snow.